Konstruktionsmerkmale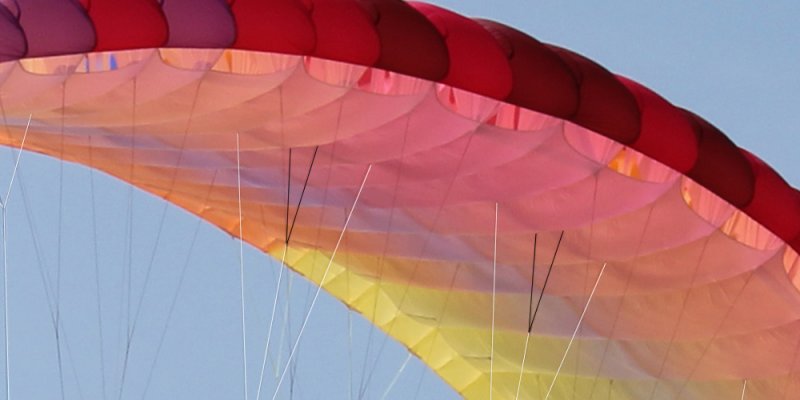 Twin B-Tabs
Following our structural analysis and many simulations, we found that by increasing the number of B tabs, but using fewer tabs (and lines) overall, we could improve the structural stability of the sail while reducing drag and improving performance.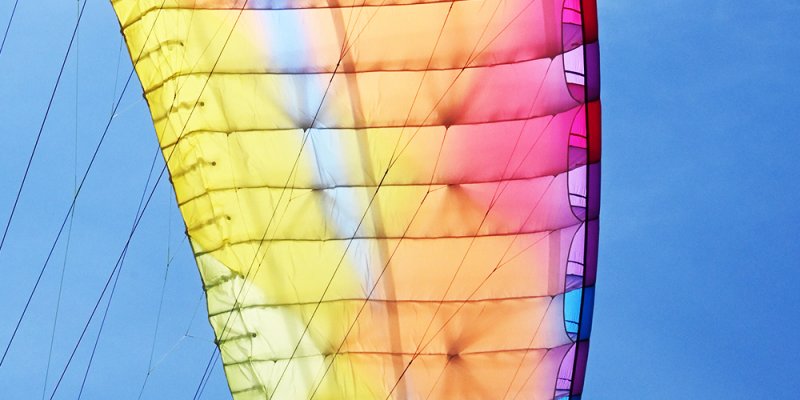 Variable Cell Widths
By using cell openings of different widths, we have been able to precisely balance the forces on the glider while keeping weight to a minimum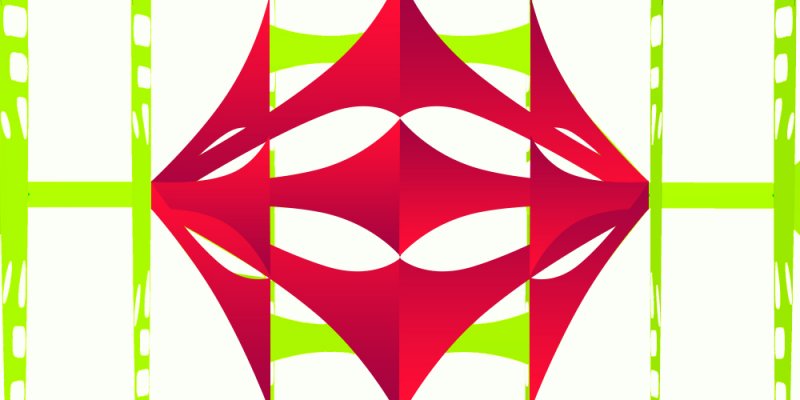 Triple finger diagonals
Über die gesamte Flügeltiefe des Profils haben wir dreiteilige Diagonalrippen entworfen, die durch die Löcher von anderen Diagonalrippen verlaufen. Sie gewährleisten die strukturelle Integrität, indem sie die Vorspannung der Rippen vermeiden und einen stabileren Flügel erzeugen, selbst wenn die Bremse betätigt wird. Dies ist besonders wichtig in der Nähe der Hinterkante, da das Profil dünn und die diagonalen Rippen flach sind und höhere Lasten tragen.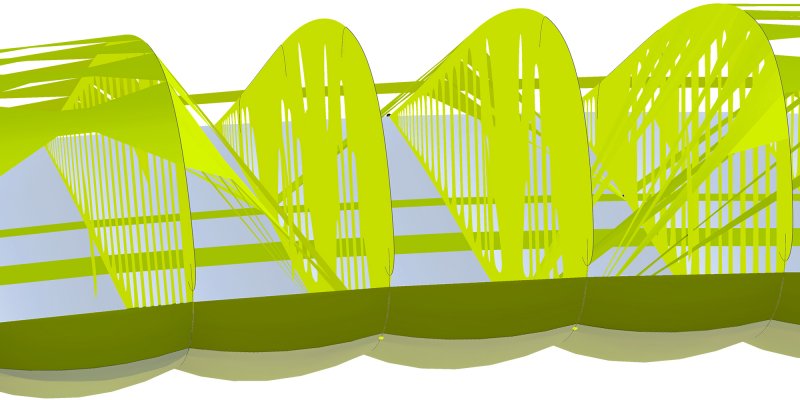 Gewichtsoptimierte Rippen
Wir haben die Festigkeit und Robustheit der Rippen beibehalten und gleichzeitig unnötiges Material entfernt. Dies bedeutet weniger Gewicht, ohne die Kosten zu erhöhen oder die Festigkeit des Flügels zu verringern. Die Lochpositionierung und -größe hängt von den Lasten ab, die das Segel vor Ort aufnimmt, und dank der jüngsten Entwicklungen in unserer Software ist es jetzt möglich, dies genau zu berechnen.
Cord Cut Billow (CCB)
Das Cord Cut Billow System wurde entwickelt um die Oberflächenqualität, das Widerstandsvermögen und die aerodynamische Güte eines Gleitschirmes zu verbessern. Im Wesentlichen besteht das CCB aus zwei längsverlaufenden Nähten auf dem Obersegel, um den 3D Ballooning Effekt der Eintrittskanten bei einem befüllten Schirm zu verbessern. Das System reduziert die Falten und Knitterstellen, die entlang der Rippen an der Nase des Gleitschirmes verlaufen, erheblich. Nicht nur, dass diese Falten am Obersegel vorkommen, sie haben auch Auswirkungen auf die Rippen selbst, da sie die Profiltreue verändern und die Rippenstabilität reduzieren. Das CCB bringt generelle Verbesserung in der Leistung und ein Mehr an Stabilität im Segel. Das ist ein signifikanter Schritt nach vorne in der Konstruktion von Gleitschirmen.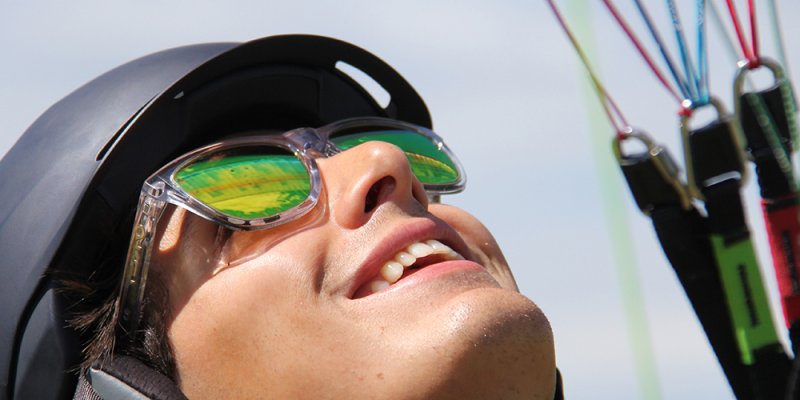 Eyes Wide Open Sicherheit
Gleitschirme, die sprechen, sind sicherer. Sichere Gleitschirme machen den Piloten besser. Bessere Piloten fliegen weiter. Weiter fliegende Piloten sind glücklichere Piloten. Eyes Wide-Open Sicherheit bringt glücklichere Piloten hervor.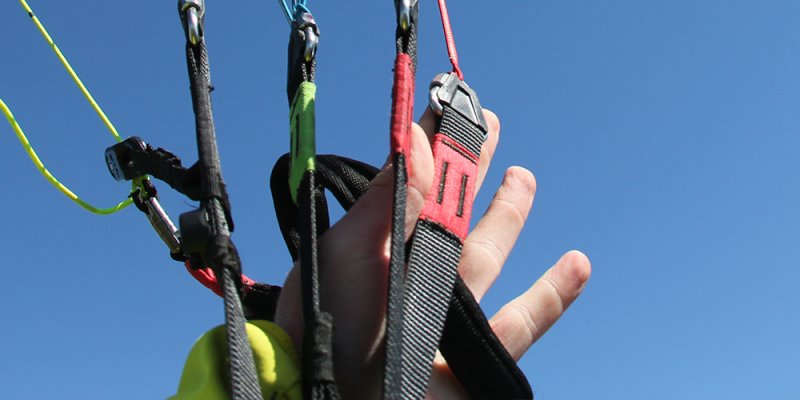 Baby-A-Tragagurte
Wir haben einen geteilten A-Tragegurt zum anlegen von grossen Ohren. Dieser Gurt ist ab der Hälfte ½-Verhältnis mit dem Rest der A-Leinen. Dies erleichtert das Benutzten des Manövers "großen Ohren" und hilft dabei, Geschwindigkeit und Stabilität beim beschleunigten Fliegen zu verbessern. Das Beschleunigersystem ist leichtgängig, einfach und sorgt für bestes Gleiten im beschleunigten Flug.
Snap locks
Snap Locks sind leichte, kompakte Magnetbefestigungen, die die Bremsen mühelos mit den Tragegurten verbinden. Ein kleiner fokussierter Magnet in der Mitte und ein internes Verriegelungssystem halten den Bremsgriff an Ort und Stelle und geben ihn nur frei, wenn die Griffe zum Piloten hin heruntergezogen werden. Dieses einzigartige Designmerkmal sorgt dafür, dass die Griffe beim Groundhandeln, Packen oder Ausführen von Manövern sich nicht einfach von der Befestigung ungewollt lösen. Das Snap Lock-System löst viele der Probleme, die mit Druckknöpfen oder Magneten verbunden sind.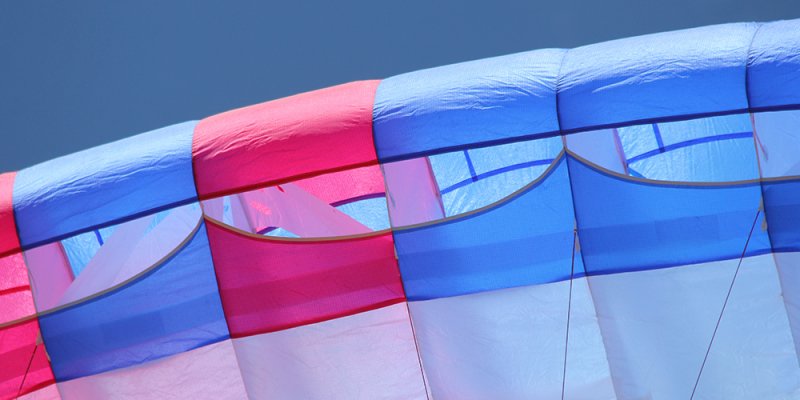 Elliptische Zellöffnungen
Wir haben herausgefunden, dass elliptische Zellenöffnungen eine bessere geringere Oberflächenspannung ergeben, wodurch ein gleichmäßigeres Füllverhalten mit Luft und ein sanftes Öffnungsverhalten nach Klappern erreicht wird.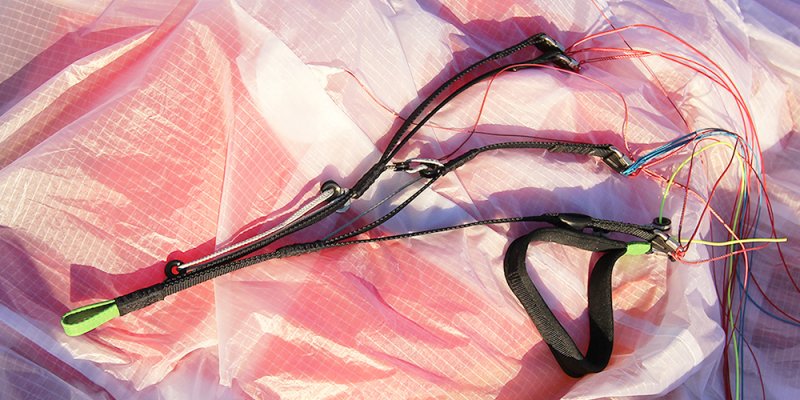 Light, simple, strong risers
We know a riser that is light, simple, and feels strong is important. The Kiss features narrow webbing risers with a speed system and weight-saving low-friction speed rings. As standard the Kiss will be delivered with steel maillons, but pilots can shave a further 80g by replacing these with softlinks (which can be ordered separately).