Tech
ALULA Simulation Software
The future of glider design depends largely on simulations. Instead of designing and producing prototypes one by one, our unique in-house structural / aero simulation program, ALULA, enables us to accurately simulate hundreds of virtual prototypes. We test over 200 virtual prototypes for each paraglider, using 50 million iterations of the structural / aero calculations.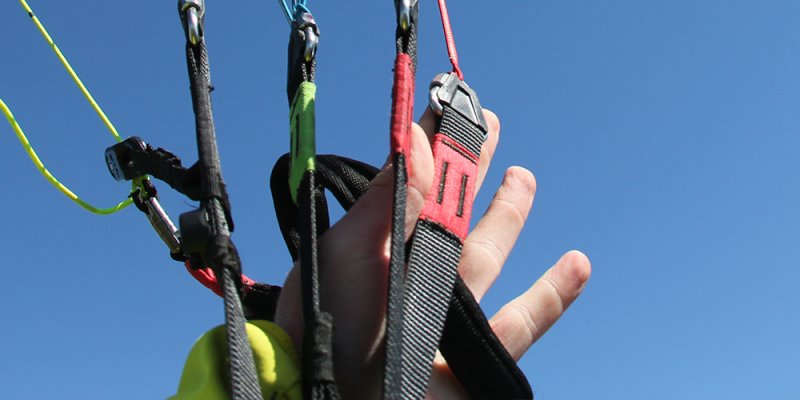 Baby A-riser
We have added a 'big ears' A riser which is also on a ½ ratio with the rest of the A lines. This facilitates easy use of big ears while helping speed and stability while on bar. The speed system is light and simple without reflex really helping glide at speed.
Chord Cut Billow (CCB)
Chord Cut Billow technology has been developed to improve the form friction, glider stability and overall performance of our paragliders. Two seams run chord-wise across the top panels of the leading edge. They accommodate the panel ballooning that happens when the wing is inflated. Without CCB, up to five centimetres of excess material is created on the sides of an inflated flat panel when it bends over a wing profile. This results in wrinkles. Chord Cut Billow technology removes this excess material and the 3D panel has fewer ripples and improved rib profile shape and stability.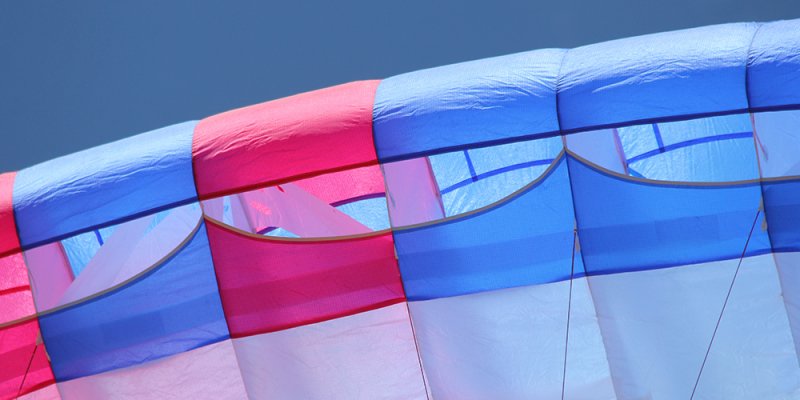 Elliptical Cell Openings
We have found that elliptical cell openings give better lower surface tension making for smoother inflation, and re-inflation after collapses.
Ergonomic Risers
The risers were designed for ease of use. The 20mm webbing is easy to handle, and they are coloured and labelled: The As are red, and marked with an A for the main As, and an ear symbol on the outer A or big-ears riser. B risers are green and labelled B. Comfortable brake handles have snaplock connectors, and swivels stop the brake lines twisting up.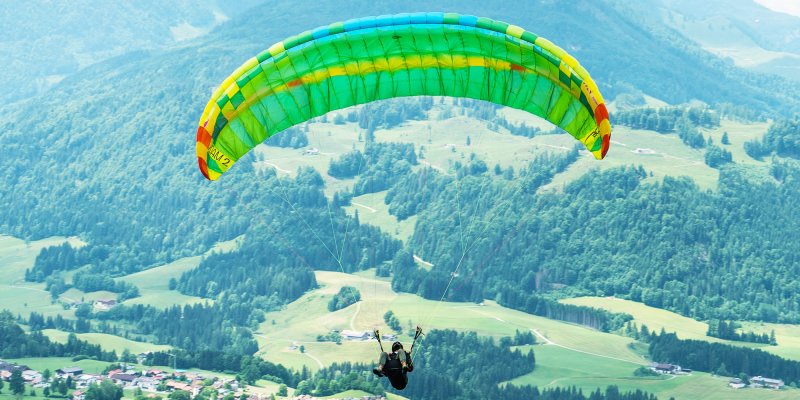 Excellent Stall Behaviour
The ADAM 2 has long brake travel and pressure that ramps up to a clear stall point. Students will not accidentally stall this glider.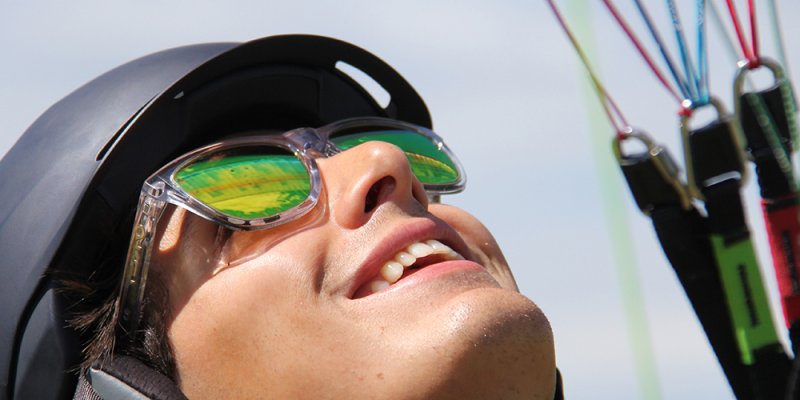 BGD Feedback
Gliders that talk are safer. Safer gliders make pilots perform better. Better performing pilots fly further. Further flying pilots are happier pilots. BGD Feedback produces happier pilots!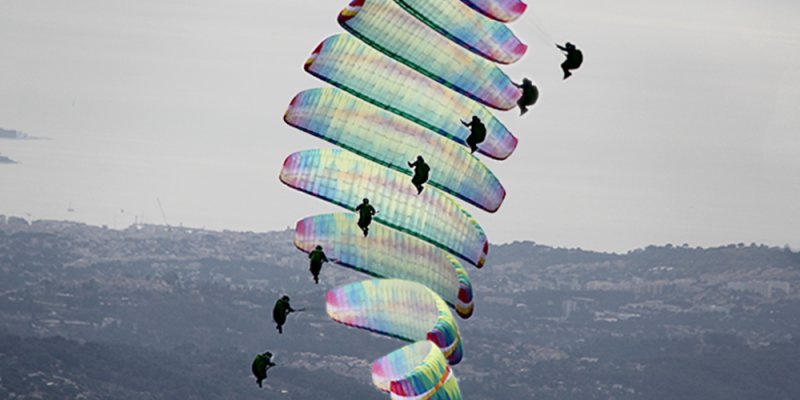 Impeccable spiral behaviour
The spiral behaviour is astounding – spiral stability can be a problem with low aspect-ratio beginner wings, but we have tested the paraglider extensively, with different inclinations and sink rates, and never, ever has it stayed in a spiral, once! This is very unusual for a school glider and is a big safety bonus.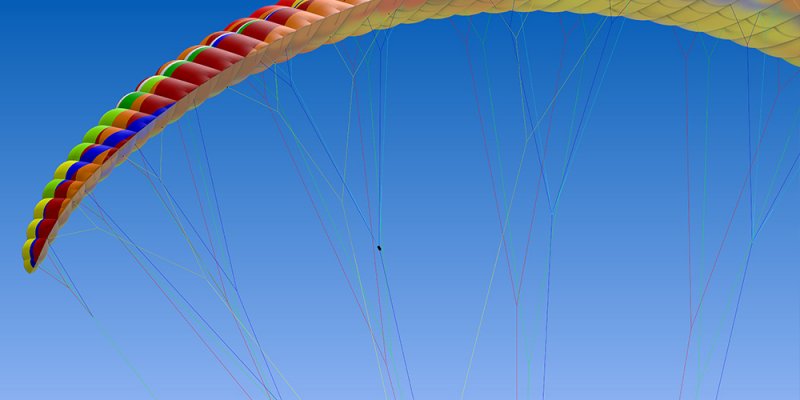 Integrated Line Layout
The line layout of our gliders is fully integrated into the wing design. Sail and lines are designed together, holistically. The cell widths and the internal straps that transfer the load though the sail are all designed according to the line layout. Even the panel shaping is matched with the line layout through detailed CAD simulation. The result is simple: fewer lines and stronger, faster, safer gliders.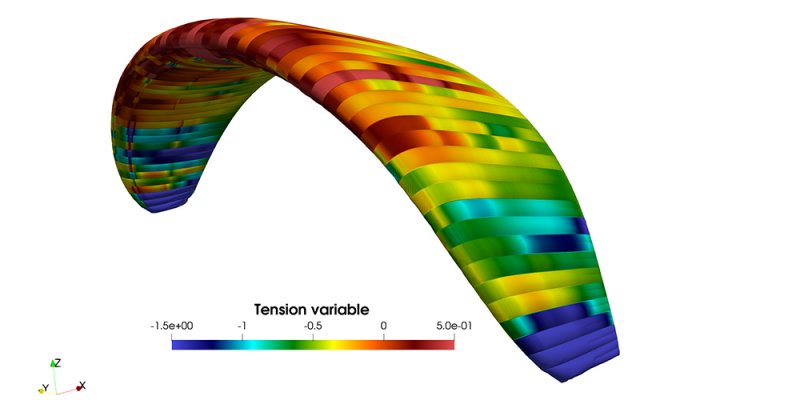 Progressive Stability
Using ALULA, BGD gliders are designed to have a stable and solid centre with progressively softer tips. This teaches pilots to predict and avoid deflations and stay aware of the air.
Snap Locks
Snap Locks are lightweight, compact attachments that connect the brakes to the risers. A small focused magnet inside the catch and an internal locking system hold the handle in place, releasing only if the handles are pulled down towards the pilot. This unique design feature means the handles don't fall off while kiting, packing, or performing manoeuvres. The Snap Lock system solves many of the problems associated with press-studs and magnets.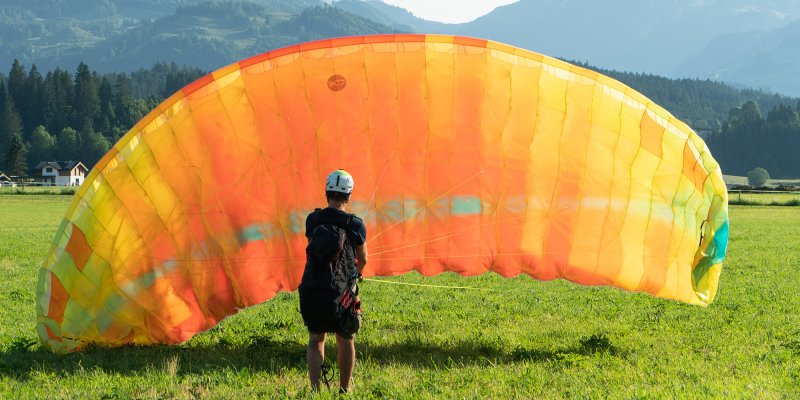 School Friendly Durability
Durability is key for a school glider, so we've opted for high quality Dominico 30D, which proved itself on the original ADAM. Despite the materials being the same, new construction methods means it's lighter than the original, at 4.1kg to 5.4kg across the range.