Tech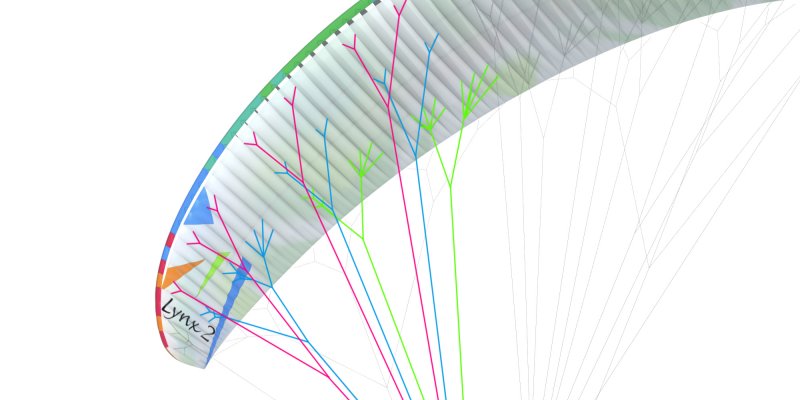 High Performance 2.5 Liner
The Lynx 2 utilises a three-liner layout in the centre and a two-liner layout at this tip. Using this hybrid layout allows the Lynx 2 to benefit from a longer brake range, less weight, higher performance, and better safety.
ALULA Simulation Software
The future of glider design depends largely on simulations. Instead of designing and producing prototypes one by one, our unique in-house structural / aero simulation program, ALULA, enables us to accurately simulate hundreds of virtual prototypes. We test over 200 virtual prototypes for each paraglider, using 50 million iterations of the structural / aero calculations.
Chord Cut Billow (CCB)
Chord Cut Billow technology has been developed to improve the form friction, glider stability and overall performance of our paragliders. Two seams run chord-wise across the top panels of the leading edge. They accommodate the panel ballooning that happens when the wing is inflated. Without CCB, up to five centimetres of excess material is created on the sides of an inflated flat panel when it bends over a wing profile. This results in wrinkles. Chord Cut Billow technology removes this excess material and the 3D panel has fewer ripples and improved rib profile shape and stability.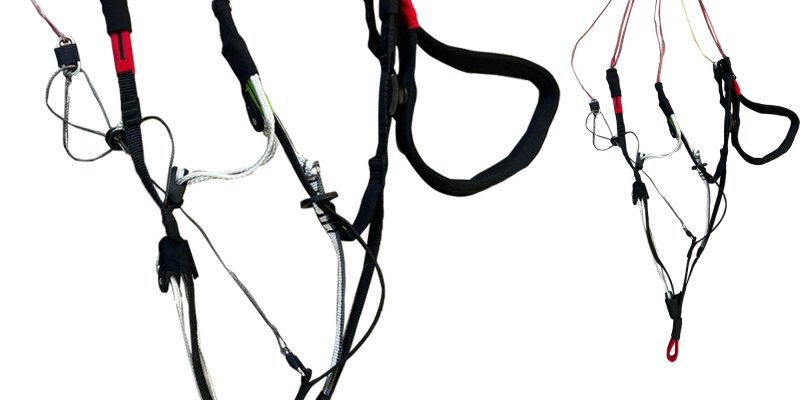 Easy-handling Risers
We have also sacrificed a few grams in the risers, choosing easy-handling Kevlar-reinforced 12mm webbing rather than shoelace-style Dyneema.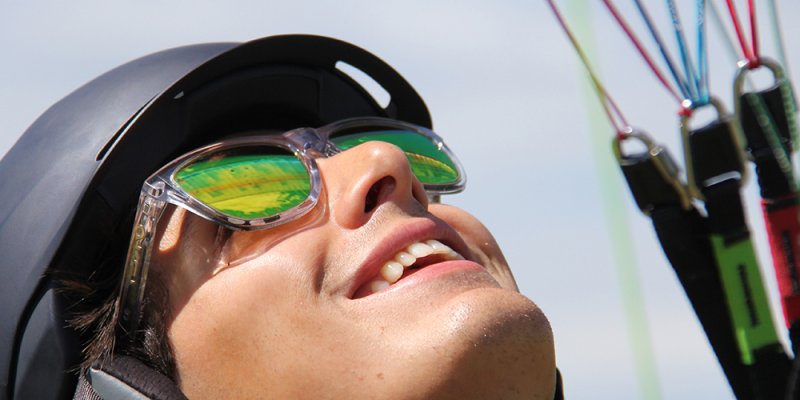 BGD Feedback
Gliders that talk are safer. Safer gliders make pilots perform better. Better performing pilots fly further. Further flying pilots are happier pilots. BGD Feedback produces happier pilots!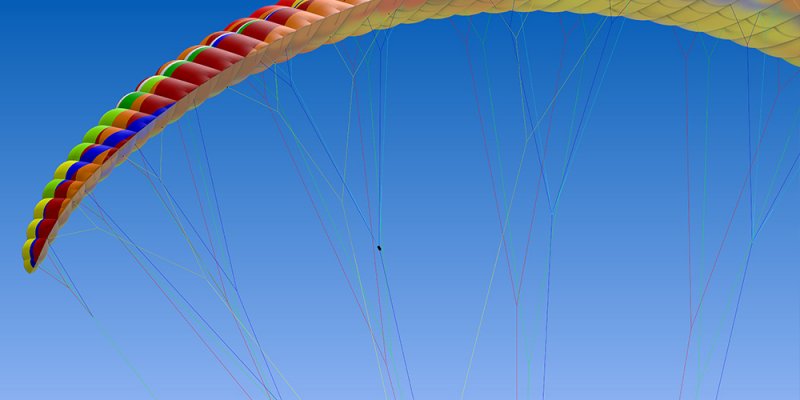 Integrated Line Layout
The line layout of our gliders is fully integrated into the wing design. Sail and lines are designed together, holistically. The cell widths and the internal straps that transfer the load though the sail are all designed according to the line layout. Even the panel shaping is matched with the line layout through detailed CAD simulation. The result is simple: fewer lines and stronger, faster, safer gliders.
Light/Durable Porcher cloths
At 3.2kg to 4.3kg across five sizes, the LYNX 2 is among the lightest wings in its category, but that does not mean durability has been sacrificed. We used 32g/m2 cloth in strategic places to reinforce the leading edge where it most needs it.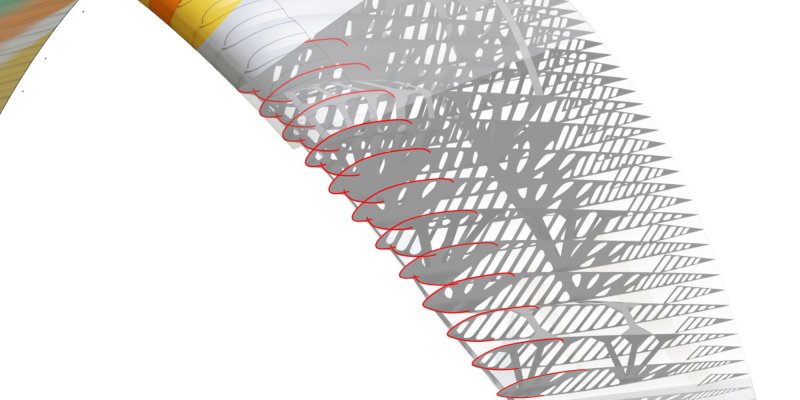 Short Plastic Rods
Thanks to the 2.5 liner layout the Lynx 2 maintains a clean shape while using short plastics only in the leading edge making it lighter and easier to pack.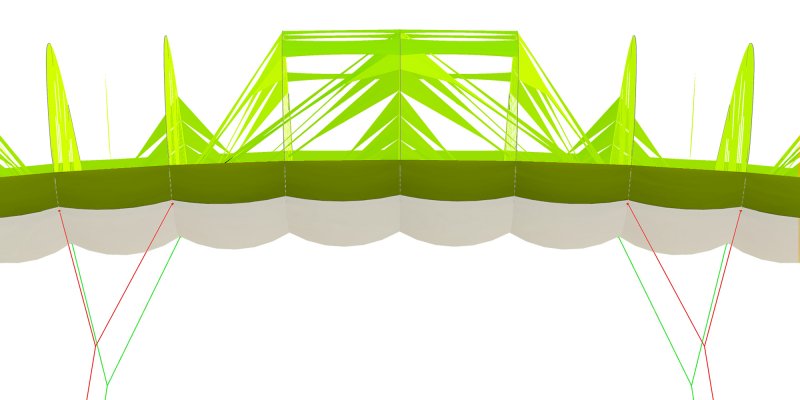 Maximised unsupported cells
Optimised unsupported cell groups are designed to match the span-wise load distribution influenced by the line layout. Coupled with a strong internal structure, the line layouts that create more span-wise tension can support more unsupported cells. While maintaining a homogenous wing, this helps to minimise line consumption reducing drag thus improving performance.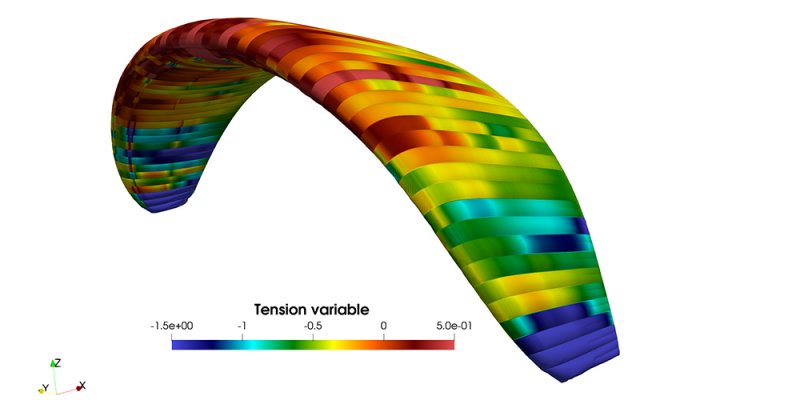 Progressive Stability
Using ALULA, BGD gliders are designed to have a stable and solid centre with progressively softer tips. This teaches pilots to predict and avoid deflations and stay aware of the air.
Snap Locks
Snap Locks are lightweight, compact attachments that connect the brakes to the risers. A small focused magnet inside the catch and an internal locking system hold the handle in place, releasing only if the handles are pulled down towards the pilot. This unique design feature means the handles don't fall off while kiting, packing, or performing manoeuvres. The Snap Lock system solves many of the problems associated with press-studs and magnets.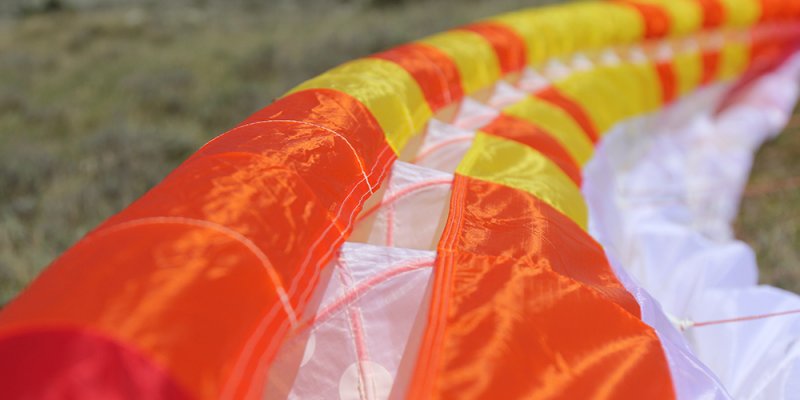 Strong shark nose
An ultra aggressive shark nose optimises stability at all speeds. Not all sharks are created equal and BGD's shark noses are very aggressive, maximising the effects of the technology.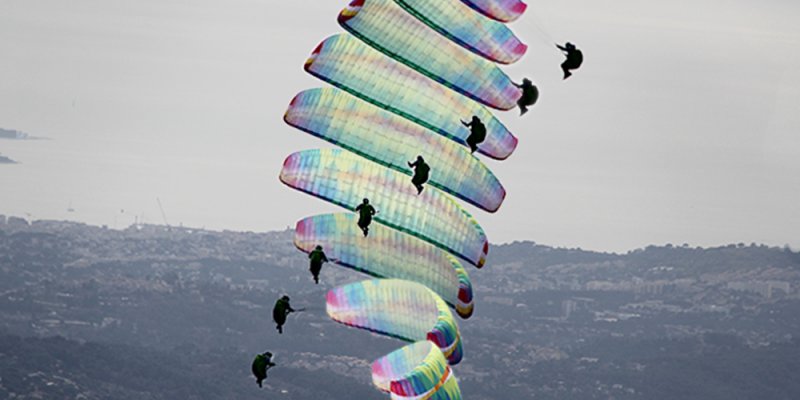 Spiral Safety System
A rib without cross port vents just before the stabi means that the tip cells lose pressure when the glider is in a spiral dive which helps the glider recover automatically from a deep spiral on its own without any pilot input.