Konstruktionsmerkmale
50 million iterations fluid/structural analysis
The future of glider design depends largely on simulations. Instead of designing and producing prototypes one by one, we can now accurately simulate hundreds of paragliders using our own unique structural/aero simulation program. In effect we are now able to test virtual prototypes using this program, and on our paragliders we make over 200 virtual prototypes and analysing these involved in total 50 million iterations of the structural/aero calculations.
Speed riser C-Steering
The risers are equipped with a new 'speed riser'. This is an extra riser that is attached to the back of the speed system. This speed riser is also attached to the front of the C steering handle. The idea is to balance the load on the C-steering handle, giving you more control over the glider when using the C-steering. This makes a lighter, simpler, and easier system, and also avoids a design where the pilot hangs from a pulley.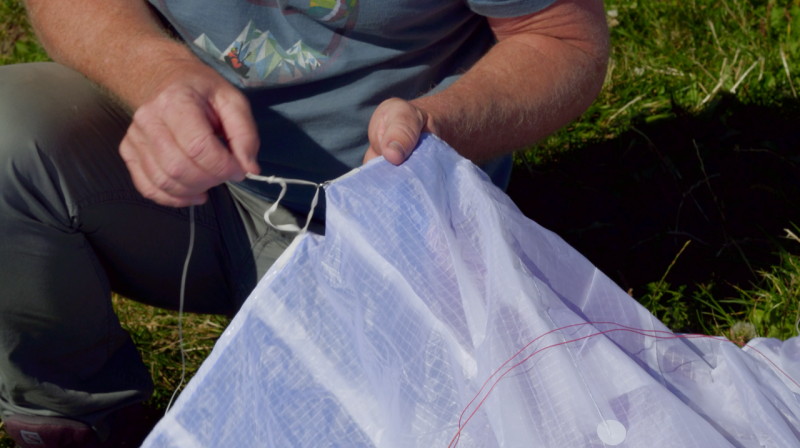 Multi-reefing system
An intricate brake-reefing system reefs both symmetrically and asymmetrically, to give the glider really sharp handling and a neat, clean trailing edge.
Cord Cut Billow (CCB)
Das Cord Cut Billow System wurde entwickelt um die Oberflächenqualität, das Widerstandsvermögen und die aerodynamische Güte eines Gleitschirmes zu verbessern. Im Wesentlichen besteht das CCB aus zwei längsverlaufenden Nähten auf dem Obersegel, um den 3D Ballooning Effekt der Eintrittskanten bei einem befüllten Schirm zu verbessern. Das System reduziert die Falten und Knitterstellen, die entlang der Rippen an der Nase des Gleitschirmes verlaufen, erheblich. Nicht nur, dass diese Falten am Obersegel vorkommen, sie haben auch Auswirkungen auf die Rippen selbst, da sie die Profiltreue verändern und die Rippenstabilität reduzieren. Das CCB bringt generelle Verbesserung in der Leistung und ein Mehr an Stabilität im Segel. Das ist ein signifikanter Schritt nach vorne in der Konstruktion von Gleitschirmen.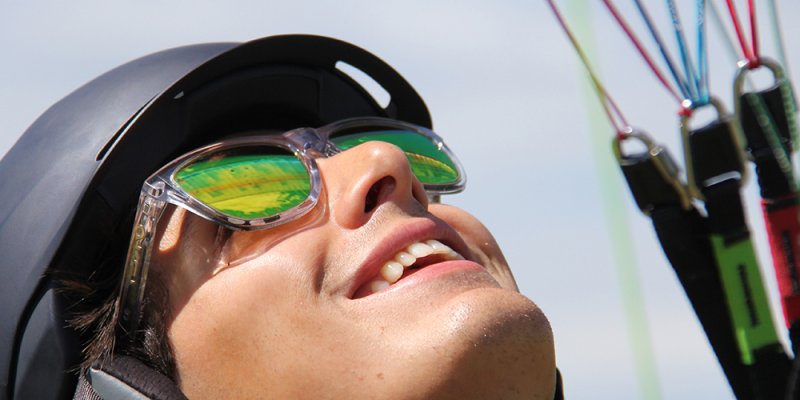 Eyes Wide Open Sicherheit
Gleitschirme, die sprechen, sind sicherer. Sichere Gleitschirme machen den Piloten besser. Bessere Piloten fliegen weiter. Weiter fliegende Piloten sind glücklichere Piloten. Eyes Wide-Open Sicherheit bringt glücklichere Piloten hervor.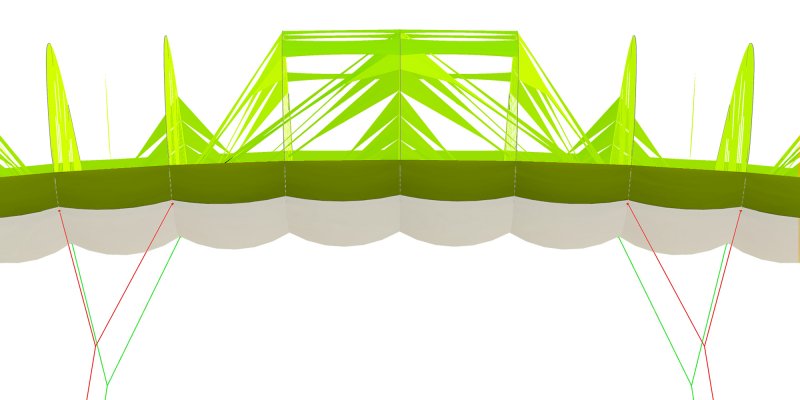 Maximierte nicht aufgehängte Zellen
Optimierte, nicht aufgehängte Zellengruppen sind so ausgelegt, dass sie der übergreifenden Lastverteilung entsprechen, die vom Leinenlayout beeinflusst wird. Zusammen mit einer starken internen Struktur können die Leinenlayouts, welche eine höhere Spannung erzeugen, mehr nicht unterstützte Zellen unterstützen. Durch die Beibehaltung eines homogenen Flügels wird der Leitungsverbrauch minimiert, der Luftwiderstand reduziert und die Leistung verbessert.
Progressive Stabilität
Die progressive Stabilität soll Piloten vor leichter bis mäßiger Turbulenz warnen statt plötzlich völlig zusammenzuklappen, wenn es richtig turbulent wird. Der Artikel von Bruce in der Cross Country-Zeitschrift "Shifting Our Thinking on Safety" erklärt: "Ein Gleitschirm, der super stabil ist und fast nie klappt, kann zu mehr Unfällen führen, als wenn er öfter Klapper hat. Der Pilot ist ohne kleinere Klapper nicht vorbereitet und hat wenig Erfahrung mit dieser Situation umzugehen". Jeder Flügel wird bei starker Turbulenz einen Klapper bekommen. Ein kleiner Klapper in mittleren Turbulenzen ist leichter zu handhaben und daher sicherer als ein großer Klapper in starken Turbulenzen, der den Piloten überrascht.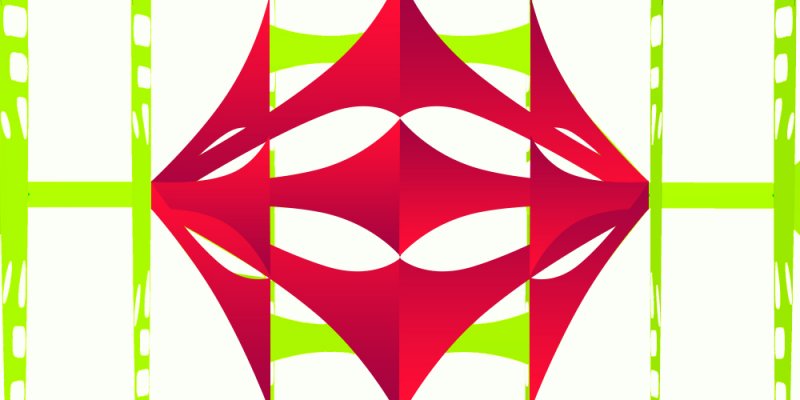 Triple finger diagonals
Über die gesamte Flügeltiefe des Profils haben wir dreiteilige Diagonalrippen entworfen, die durch die Löcher von anderen Diagonalrippen verlaufen. Sie gewährleisten die strukturelle Integrität, indem sie die Vorspannung der Rippen vermeiden und einen stabileren Flügel erzeugen, selbst wenn die Bremse betätigt wird. Dies ist besonders wichtig in der Nähe der Hinterkante, da das Profil dünn und die diagonalen Rippen flach sind und höhere Lasten tragen.
Airflow Tufts
During development, many small tufts of fabric attached to the top surface of the glider can help us to visualise the airflow over the surface. By filming their movement and playing the film back in slow motion, we can study the airflow over the surface.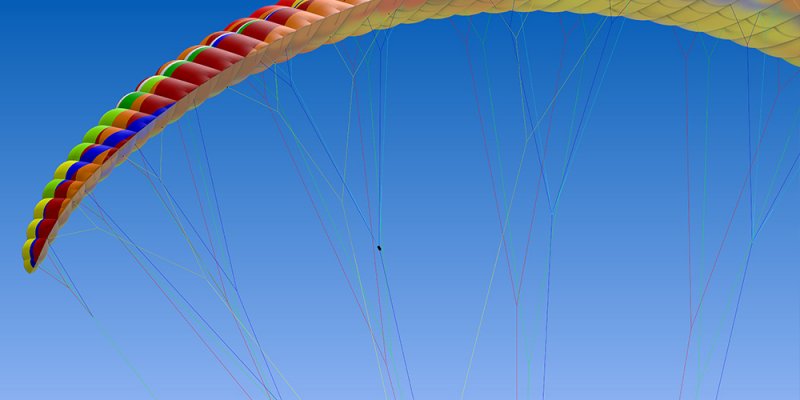 Optimised Line Layout
Over the years we have perfected our system of optimising the line layout of our wings. We use numerous equations, software, and the plain old guess-and-check method to build our line layouts. The result is simple: fewer lines making stronger, faster gliders.